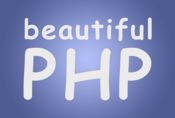 Every once in a great while, there comes an inspiration the likes for which the world has been heretofore unprepared.
BeautifulPHP is one of those inspirations.
I've owned the domain since March 1st, 2015, but until last week I had been struggling to find a purpose for it beyond a pure joke. You see, I actually do feel that PHP deserves some accolades. A lot of people tend to bash it, the same way that I've caught myself bashing Perl. And Java. And Python. And C++. And Dot-Net. (They're good languages, Bront.) Except when PHP gets brought into the fray, things get waaaaay out of hand.