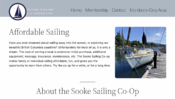 Recently I became the Membership Director of the Sooke Sailing Co-Operative, which I joined last year as a way to get out on the water without the hassle of having to buy a boat. With this new role also came the duty of Webmaster. The co-op has a small membership roster, and the hope is that recruiting new members will unlock more adventures and more boats.
Part of this growth goal means rebuilding the organization's website. After hearing from other members about what they felt would be best for the site, Wordpress seemed like the clear software choice for this. I thought, it's easy for everyone to work with, and the support for themes and plugins should make it a cinch to set up.
Oh, what a fool I was, thinking it would be straightforward and simple to get a nice looking site up and running.