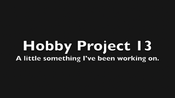 A few weeks ago, I was having a conversation with Chris Hartjes (aka The Grumpy Programmer) about unfinished hobby projects. His advice got me thinking about how many projects I've got "on the go", and how they often go completely forgotten for months at a time.
I wrote a list of all the ones I can remember. I even included some ones that I "cancelled" or closed down, because I still sometimes think about bringing them back.
When I was finished, the list had 27 items.
This post is about Hobby Project 13. And there's video.