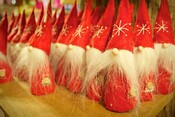 They say that your servers should be cattle, not pets, but I've never truly subscribed to that theory. Sure, nameless autoscaling behemoths are a great technical achievement. Probably safer and more resilient, too. But it would be tremendous overkill for my hobby projects.
One such project has a database server that's been chugging along happily for many years.
Tonight, on a whim, I tried SSHing to it to check something (I forget what - probably the uptime), and was surprised to have my connection rejected.
Permission Denied.
What could cause that, I wondered? And of course, I quietly panicked. Had it been compromised? Could it have been corrupted in some way?