Remote Work: The Open-Plan Office
Ever wondered about a day in the life of a remote worker?
I've been a remote software developer for 3+ years, and most days I just sit at my desk at home and get stuff done.
Every once in a great while, though, I venture out into the world. Some days it's just for lunch. Some days it's a short photo walk to brighten up my day. But on some rare days ... I get a bit more adventurous.
This YouTube video is from just such a day:
The Adventure
It was a calm spring day, so I packed up my crab fishing gear and headed to Pedder Bay, a local marina that offers affordable hourly boat rentals.
I rented a sixteen foot "Double Eagle" with a 50 horsepower Yamaha motor.
Soon after exiting the marina, I put my crab trap in the water near some other traps. In the video, I joke that the footage was "not found" - really, it just wasn't possible (or safe) to capture footage and put the trap in the water at the same time. The line I was using also got tangled up as I was dropping the trap, so I had to spend some time un-knotting it.
I continued out into the Salish Sea and over to nearby Beecher Bay. I shut off the motor and gently drifted while coding. My phone was working as a wifi hotspot, so I didn't capture any footage of this part for fear of overloading it & crashing.
A couple of times the boat drifted a bit too close to the southern end of Beecher Bay, so I turned the motors back on and moved closer to the northern side.
The boat seat wasn't the most ergonomically comfortable place to code, but things worked out well. The boat's roof (bimini) was raised, which helped reduce glare on the screen.
After about two hours, the wind and waves started to pick up. The weather forecast indicated that it would probably be getting worse, so I decided it was time to pack it in.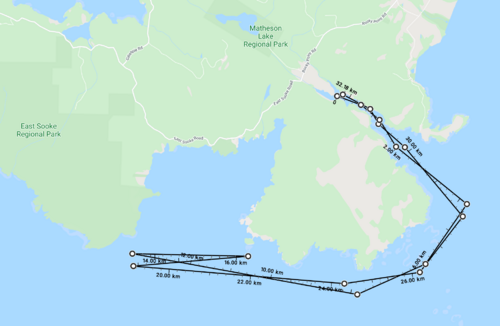 An illustration of the trip chart, as well as a zoomed-out view showing the location relative to Victoria, BC and Seattle, Washington.
The Return
I shot a couple of nice photos on the way back, and stopped to pull up the crab trap. One regulation-size male red rock crab doesn't have enough meat to be worth eating, so I gently tossed it back into the water and headed back to the marina.
Once I docked at the marina, I noticed that a pair of seals were going to town with the carcass of a lingcod. I took a bunch of photos and videos, including a particularly silly one of a seal covered in viscera, and then packed my gear into the car and headed home.
That was a great day.
Published: March 14, 2020
Related Posts