Congratulations on the mess you made of things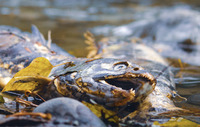 I waited. I saw. I bounced.
It's done. I know there are many people still using it. You shouldn't be.
As a previously-active user, I had curated a reasonably copasetic timeline. I relied heavily on muted words and account blocks. Even amidst this chaos, it's still surprisingly usable. But one peek into the trending topics reveals the rot beneath that stately surface. And in case that's not testimonial enough, here's a handy timeline of all the terrible decisions being made.
Sure, not everyone has the luxury of leaving. Some people have contractual obligations. Others have managed to build an entire career on the back of Twitter. And still more folks just don't have time for philosophical nonsense or learning the ins and outs of new platforms.
I've heard folks championing the idea of "stay and fight!". Fight for what? No amount of user pushback will change the fact that the tippy top of the company is under new management, and that management is hostile.
Consider this: a right-leaning industrial tycoon just bought your newspaper and eviscerated it.
You can't trust it any more. You can't trust him. You need a new newspaper.
When choosing a new haunt, aim for something that won't have the same flaw. Choose something where a tycoon can't swoop in and rend it asunder. In my opinion, this means something that won't have its eye on a juicy exit for investors.
There's a mad scramble in the tech industry to "be the next Twitter", with all kinds of Hives and Posts spinning up to siphon the Twitter outfall. Pay attention to who foots the bill. Will they try and maximize their investment by turning up the dials on all kinds of dark engagement tricks? You bet yer sweet bippy they will.
Don't fall for the siren song of the tech CEO with borrowed deep pockets. That ballad is played out. You should know better. By now, we all should know better.
After this decade-plus affair with Twitter, I really do think we need a social media methadone to break the addiction cycle. Especially considering, like any tech company of a certain size, Twitter had teams of people dedicated to crafting addictive engagement loops into the core of the product. Some people, myself included, have observed that there've been times when their mind has wandered on a task and - suddenly - they've found themselves reading Twitter, with zero conscious memory of having opened the app. That's not healthy.
I've chosen Mastodon; it is a hodgepodge decentralized volunteer effort, not a venture-backed product of greed and control. It might not be the right choice for you. It will most definitely have growing pains over the coming months, particularly around moderation. I don't think it will replace Twitter - I'm not sure that anything can, or should. But I do think it is a suitable destination for breaking the habit of Twitter.
I don't know what this maladroit marauder wanted to do with Twitter.
I don't know what his overall plan or motivations were. It may forever be an enigma wrapped in a riddle and stuffed in a turd floating in a urinal. There's been no end of speculation this way or that way. Did he want to destroy it? Maybe use it for his space plans? Was he totally ensnared in the feedback loops and living in a reality distortion field? Did he need something new to rub his emerald-encrusted taint all over? Or did he do it purely to invite his antisemitic and anti-democracy buddies back on?
We'll never know the real motivation behind this. All we can see are outcomes. And for now, the immediate outcomes:
The organization has been, for lack of a better word, pulverized
Moderation has been abandoned
Hatred has been invited back with open arms
All the things that made it somewhat hospitable have withered
Advertisers are fleeing
Why aren't the investors more outraged? Maybe they are. They're professionals, they wouldn't bleat about concerns - they would take action. Yet, we haven't seen any. Why not?
I do have one theory, and it seems to fit the facts as observed thus far:
Published: November 29, 2022
Tags: opinion, twitter, mastodon
Related Posts