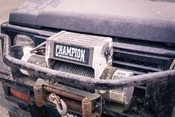 Well, here we are. Time to put the pedal to the metal and start exploring non-Silex options for my many side projects. I've always defaulted to Silex because it was a quick and easy way to stand up a simple project with a handful of routes.
Luckily, there are several actively-developed options for that in the PHP world.
SlimPHP looks to be the most in-line with Silex's microframework goals.
A while back, I made deref.link as a brutally simple testbed for experimenting with AngularJS. It consists of a homepage and a route for checking the redirect path of URLs. I'm going to rewrite it using Slim and, in a later post, React.